Welcome to the Borland Pascal Wiki!
This wiki's goal is to bring the Pascal-programmers information about Pascal compilers, especially Borland Pascal, scripts written in Pascal and screenshots of the resulted applications. You can contribute here for free! You can edit almost any page for free. You need only to know the wiki language. You can learn it very quickly here.

Find what you want

You may search for articles, scripts and screenshots. For a faster look-up, see the script category, and the instructions category.




Start contributing!

You can help us by editing pages, adding new scripts, uploading screenshots... Everything is absolutely free! We'd appreciate so much if you'd like to share your knowledge here!

Any new user that contributes sporadically will be granted admin rights.
Featured article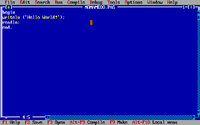 Borland Pascal is a complete development system that includes a compiler and an Integrated Development Environment (IDE) for the Pascal programming language running mainly on MS-DOS, developed by Borland under Philippe Kahn's leadership. The name Borland Pascal was generally reserved for the high end packages (with more libraries and standard library source code) while the original cheap and widely known version was sold as Turbo Pascal. The name Borland Pascal is also used more generically for Borland's dialect of Pascal.
Borland has released three versions of Turbo Pascal for free: versions 1.0, 3.02 and 5.5.
Community content is available under
CC-BY-SA
unless otherwise noted.